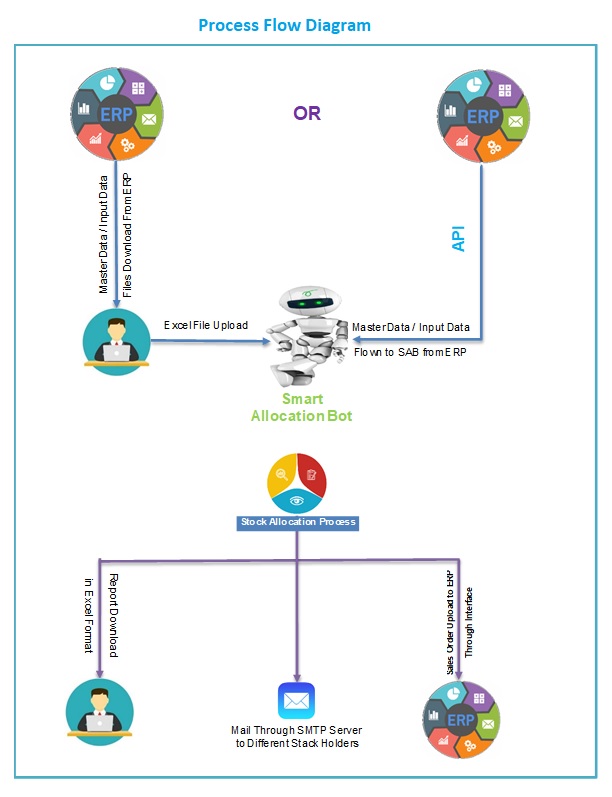 SAB helps in allocating stocks to distributors from depots. It ensures right product mix at distributor end and minimizes stock turnover ratio and ensures maximum utilization of distributor fund.
Main Features of SAB
Starvation allocation: The main purpose of starvation logic is to cater distributors who are more starving so that all the distributors will have similar demand cover.
Customer prioritization: This logic is capable to prioritize a specific distributor or channel (Like modern trade, E-com etc.) during allocation. It ensures improved service level and line fill for priority customers.
Material substitution: To facilitate transition of multiple material codes under same base pack, it has substitution logic where stock will be allocated in a way that old stocks will be exhausted first resulting low slob stock generation at depot. It helps during promotional to non-promotional items transition and re-launch or vice versa.
Customer Quota: This logic ensures controlled and precise mannered stock allocation for any innovation, promotional and sampling packs against agreed plan. It helps market penetration and assortment growth.
Direct dispatch (Delivering goods direct from factory to distributor): Normally we allocate stock to the distributors based on depot availability, but this logic considers not only depot stocks but also factory stocks and if full truck delivery is possible, it suggests allocation from factory. As a result, this eliminates primary distribution which has significant cost benefit.
Multi drop and multi pick: When multiple customers delivery can be ensured in a single vehicle as per tonnage, SAB automatically suggests multi drop for the same route customers in case minimum truck load is met. Same way when a customer vehicle tonnage is met from different factories, SAB suggests multi pick from the factories which minimizes logistics cost.
Trim algorithm: If distributor's order value is more than available fund, then this tool has capability to trim the order and allocate stock to the tune of available fund to ensure right stock mix at distributor level. It helps order processing of non-credit customers and maximizes the number of lines allocation.
Integration with ERP: ERP Integration is the method by which a business connects its ERP (Enterprise Resource Planning) software with other applications. In case of SAB it's possible to integrate with ERP for auto insert Master & Input files from ERP. Also final sales order upload to ERP.
Email Capabilities: SAB can send auto email to different stack holders like Sales, Depot's, Logistics, Productions, Management Committee and Distributors / Customers.
MIS Reports: For better understanding of business state SAB generates several reports like Pre-Allocation Trim Report, Pre-Allocation Report, Final Allocation Report (Summary and Detail) and (Cumulative and Version), Loss Analysis (Stock, Fund), MC Report, DD Loss Analysis and etc.
Clients
Unilever Bangladesh Limited
Unilever Consumer Care Limited
Pakistan Unilever